Super Rugby TransTasman Stats

Tauhokohoko
Show your colours
Our 2022 jersey is available for pre-order now!
Shop the latest Crusaders merchandise and supporters gear.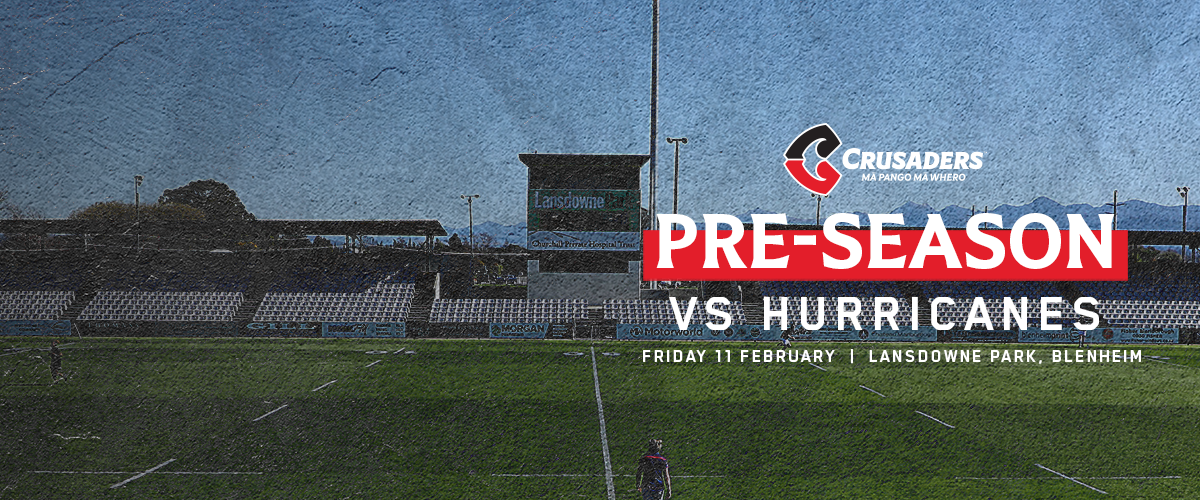 Crusaders Pre Season in Blenheim!
Having opened their season a week earlier against the Highlanders, the Crusaders will be ready to take on their 'across the strait' rivals, the Hurricanes in their second pre-season fixture!
Join us at Lansdowne Park on Friday 11th February for a 5:30pm kick off to show your support and enjoy some early 2022 live rugby action. The perfect start to the Marlborough Wine & Food Festival weekend!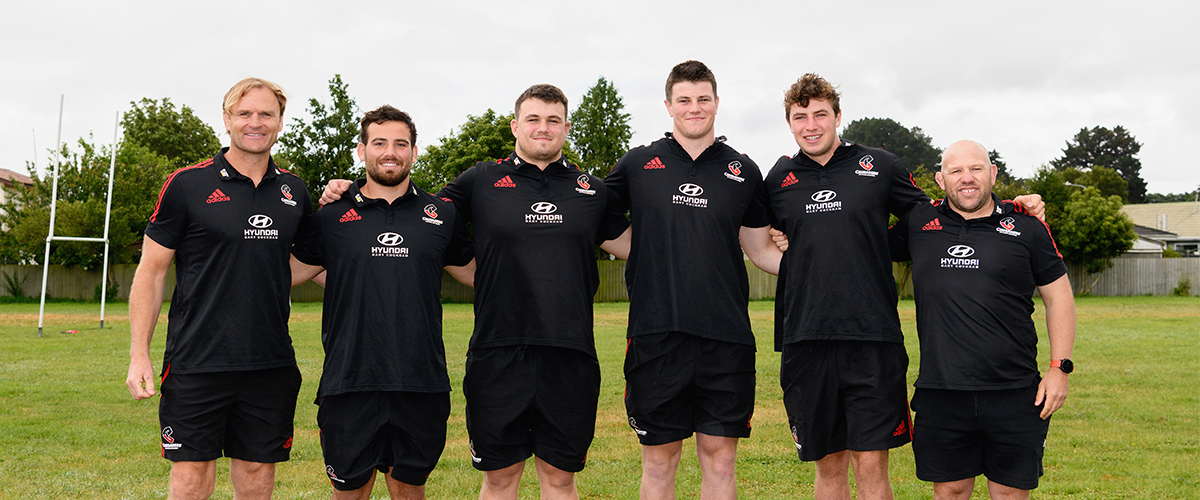 2022 Crusaders Squad
The 2022 Squad was announced at Bromley Primary School in Christchurch on Monday 22 November. Razor named a squad that includes 9 new debutants, five players with more than 100 Super Rugby caps to their name and 12 current All Blacks.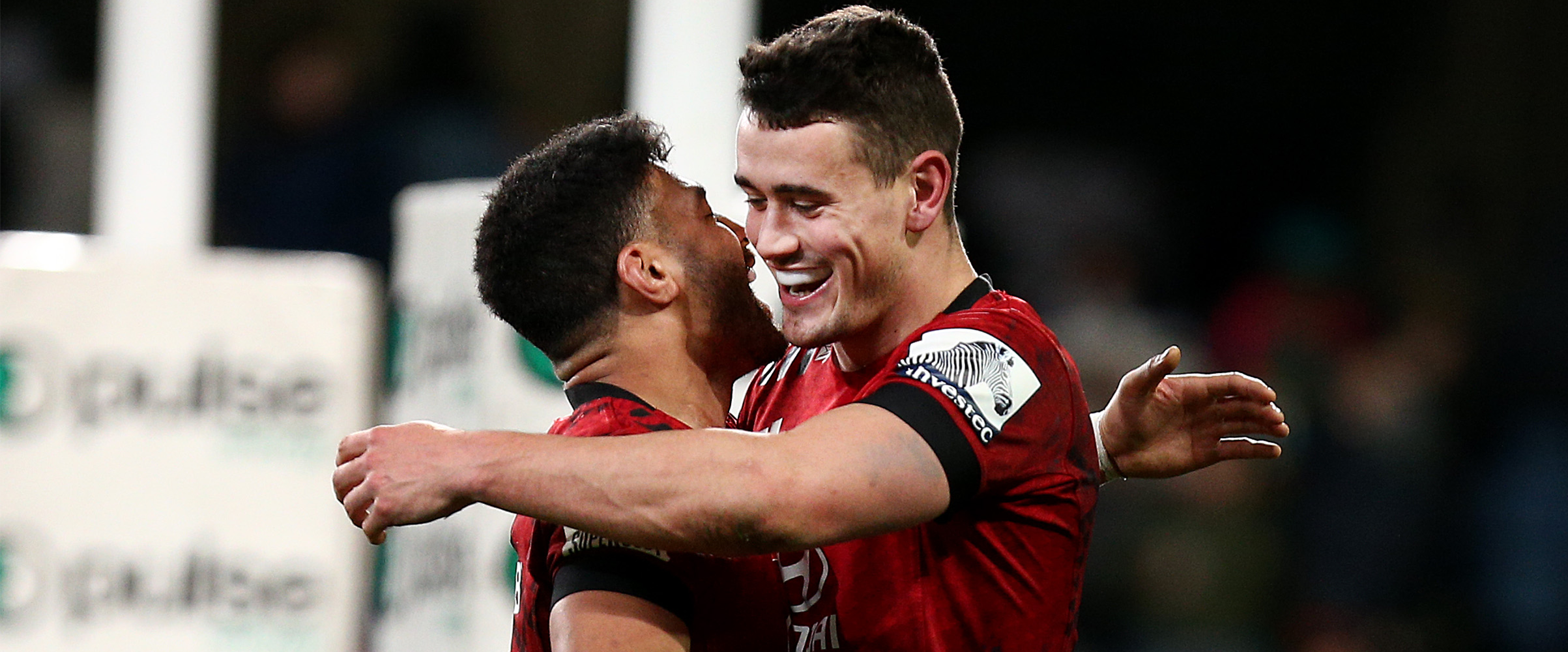 Sign up to our database!
Sign up to our database to receive ticket information, the latest news, offers, and competitions from the Crusaders and their partners!

KA OTI TE MAHI
STRONGER TOGETHER
The Crusaders reflect the passion and pride of our fans, gaining strength from your support and giving it back.....
As a club, we build a sense of belonging to something that is more than rugby.

$22,671 raised for Mid Canterbury Flood Relief!
The Crusaders & Farmlands Co-operative auctioned 8 'Engine Room' Jerseys to raise funds for the rural community in Mid Canterbury which has recently been devastated by widespread flooding. All auctions closed on Thursday 10 June and over $22K was raised!
2022 Season
| Round | Date | Match | Score |
| --- | --- | --- | --- |
| 1 | Sat 19 Feb | 07:05 pm | Crusaders V Hurricanes | - |
| 2 | Sat 26 Feb | 07:05 pm | Highlanders V Crusaders | - |
| 3 | Fri 4 Mar | 07:05 pm | Moana Pasifika V Crusaders | - |
| 4 | Sat 12 Mar | 07:05 pm | Crusaders V Chiefs | - |
| 5 | Sun 20 Mar | 03:35 pm | Crusaders V Blues | - |
| 6 | Sat 26 Mar | 07:05 pm | Chiefs V Crusaders | - |
| 7 | Fri 1 Apr | 07:05 pm | Crusaders V Highlanders | - |
| 8 | Fri 8 Apr | 07:05 pm | Hurricanes V Crusaders | - |
| 10 | Sun 24 Apr | 06:30 pm | Crusaders V Melbourne Rebels | - |
| 11 | Sat 30 Apr | 07:05 pm | NSW Waratahs V Crusaders | - |
| 12 | Sat 7 May | 09:45 pm | Western Force V Crusaders | - |
| 13 | Fri 13 May | 09:45 pm | Brumbies V Crusaders | - |
| 14 | Fri 20 May | 07:05 pm | Crusaders V Fijian Drua | - |
| 15 | Fri 27 May | 07:05 pm | Crusaders V Queensland Reds | - |
2021 Trans Tasman Draw & Results
| Round | Date | Match | Score |
| --- | --- | --- | --- |
| 1 | Sat 15 May | 07:05 pm | Crusaders V Brumbies | 31-29 |
| 2 | Sat 22 May | 09:45 pm | Queensland Reds V Crusaders | 28-63 |
| 3 | Sat 29 May | 05:05 pm | NSW Waratahs V Crusaders | 28-54 |
| 4 | Fri 4 Jun | 07:05 pm | Crusaders V Western Force | 29-21 |
| 5 | Sat 12 Jun | 04:35 pm | Rebels V Crusaders | 26-52 |
2021 Aotearoa Draw & Results
| Round | Date | Match | Score |
| --- | --- | --- | --- |
| 1 | Fri 26 Feb | 07:05 pm | Highlanders V Crusaders | 13-26 |
| 2 | Sun 7 Mar | 04:35 pm | Crusaders V Hurricanes | 33-16 |
| 3 | Sat 13 Mar | 07:05 pm | Crusaders V Chiefs | 39-17 |
| 4 | Sun 21 Mar | 03:35 pm | Blues V Crusaders | 27-43 |
| 6 | Fri 2 Apr | 07:05 pm | Crusaders V Highlanders | 12-33 |
| 7 | Sun 11 Apr | 03:35 pm | Hurricanes V Crusaders | 27-30 |
| 8 | Sat 17 Apr | 07:05 pm | Chiefs V Crusaders | 26-25 |
| 9 | Sun 25 Apr | 03:35 pm | Crusaders V Blues | 29-6 |
| 11 | Sat 8 May | 07:05 pm | Crusaders V Chiefs | 24-13 |